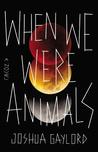 For most of When We Were Animals, Joshua Gaylord pulls off the trick of writing a hybrid werewolf and coming-of-age-novel that is clever, subtle and utterly compelling.
Not since Joss Whedon used a werewolf in Buffy the Vampire Slayer has the supernatural being used to comment on the transformation and confusing time of being a teenager been so well done.
When the children in her small town hit a certain age, they begin to undergo a type of transformation. Three nights a month, then become wild, savage — shedding clothes and societal norms to run in the woods and do things that animals do. Lumen is a bit of a late bloomer, not undergoing the process until later in her teenage years, though there is one particular boy who is willing to try and help her along with the change.
There's also something that happened — a twist that Gaylord hides right in plain sight for much of the novel. That is, until he smacks you squarely between the eyes in the novel's final chapters as if to say, "You should have been playing closer attention to what the left hand was going, but I had you completely distracted with the fireworks I had in my right hand." It's a nice twist that more than makes up for the fact that I felt the novel was starting to lose a bit of momentum once Lumen transforms and we see her life from that point forward.
When We Were Animals is a surprisingly fun, entertaining and thought provoking novel. It's also of one of those books that has passages that are so eloquent you can't help but go back to read them again, allowing them to wash back over you and marveling and Gaylord's technique and storytelling.