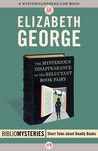 While many of us can figuratively lose ourselves in a book, Jane Shore has the ability to literally do so. As a girl, she learned that she could tether herself to reality and simply step inside the pages of a book to experience her favorite scenes and stories. Jane shared this ability with some of her friends, but as she grew older she stopped stepping into the pages of great novels and became a librarian.
Until one day when her path crosses an old friend who encourages Jane (who moved away and lives under a new name) to use her gift for profit. As Annapurna (love the name), they sell the opportunity for people to lose themselves in timeless works of literature.
I've been a big fan of Elizabeth George and her Lynley mysteries for a while now. So when the opportunity came along to check out an original story, I jumped at it. This wonderful novella is a lot of fun and while it's not quite a hard-hitting mystery that George usually delivers, that doesn't make it any less of a delight to read. I especially enjoyed some of the rules that Jane and her partner set up for what books or even scenes from books can be visited. Jane won't allow readers to step into E.L. James' novels, there are no love triangles and there is only one vampire worthy of meeting (and it ain't a sparkly one!).
A quick, delightful read The Mysterious Disappearance of the Reluctant Book Fairy makes me curious to see what other offerings the Bilbiophiles series has. And seeing that there is an entry from Laura Lippman, I can predict where I might land next.
In the interest of full disclosure, I received a digital ARC of this book from NetGalley in exchange for an honest review.