Leviathan Wakes by James S.A. Corey
James S.A. Corey's Leviathan Wakes languished on my to-be-read pile ever since it was nominated for the Hugo Award a couple of years ago. I'm not sure what this says about me as a reader, but it was news that the novel was being developed for a potential SyFy series that finally drove me to crack the cover and give it a chance.
Also, the notion that with the series reaching a fourth book and getting some good buzz, I'd better jump in now or risk being so far behind that I'd never want to catch up.
I'm glad I waded into the book because it's one of the more enjoyable space opera novels I've read in a long time. Space opera can be a bit bleak at times and while this one does have those moments, it still manages to rise above them at others and keep things entertaining. Part of it could be the parallel stories that intersect at just the right point and then continue to escalate events from there. Part of the hook is that one is a mystery set within this genre universe and that helped me to connect to the story and want to keep reading. It also helps that both storylines reveal different aspects of the politics of this universe and how they are unfolding and developing. Even the info-dumps necessary for a novel like this don't feel like the entire plot is screeching to a halt in order to have characters stop and give us information we need in order for the story to continue.
And while this one is the start of a series, it's self-contained enough to leave me feeling satisfied once the final page is turned. Yes, I want to come back but I don't feel like I've read an 500-page prologue for the next book in the series.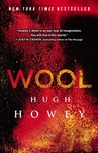 Wool Omnibus (Silo, #1) by Hugh Howey
If I'd read Hugh Howey's Wool back when it was a self-published, little book that could, I think I might have enjoyed it more than I did. Or at least I wouldn't have entered into it expecting the "next great thing" in the publishing world.
As it is, I enjoyed much of what does in Wool even if I didn't necessarily love it. As far as world-building and character arcs go, this one stands out from the crowd of post-apocalyptic novels. The hook (which I won't give away here, though I will admit I figured it out a bit before our characters did) works extremely well, though I feel as if too much of the middle third of the novel is content to just tread water instead of getting to the answers we want or need. Perhaps this is setting up things for future installments and there will be a payoff or two there.
Wool has intrigued me enough that I'm curious to pick up the next installment in the series and visit this world again. But I'm not sure how quickly I'll be back for more.
---
When it comes to Jim Gaffigan's Dad is Fat, I feel like my lack of love for the book isn't so much about the book itself, but more to do with me.
I've enjoyed Gaffigan's stand-up material and a lot of it is well-translated to the page (or in my case the audio book). But I was probably mentally not in a place to truly enjoy jokes about the daily trials and tribulations of raising five kids.
Gaffigan's stories of trying to raise five kids in a two-bedroom New York City apartment are utterly charming and amusing. Gaffigan is even self-deprecating enough to appreciate the absurdity of certain things.
And yet I just couldn't love the book. I tried.  Instead, I found myself checking to see how close to the end I was and trying to determine if I felt like continuing.  Not good news when you listen to an audiobook while working out in order to help take your mind off a long run or swimming laps.
It's not you, it's me, I kept thinking. And it probably was.