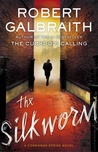 The Silkworm by Robert Galbraith
Last year, J.K. Rowling created a bit of buzz in the publishing world when she published a mystery novel under the pseudonym, Robert Galbraith. But once the initial buzz was over, fans discovered that Rowling had crafted an enjoyable mystery novel with The Cuckoo's Curse and that she'd already penned and the sequel The Silkworm.
As a fan of the first novel, I was curious to see what Galbraith had in store for us with the second Cormoran Strike novel.
Basking in his new-found fame and finally getting back on his financial feet, Strike has more work than he can handle. But that doesn't stop him from taking a case that may not necessarily mean a huge financial windfall for him (in fact, the client may not be able to pay at all) but has instead piqued his detective's curiosity. Novelist Owen Quine has gone missing and his wife asks Strike to help track him down. Quine has just written what he believes is his masterpiece, a thinly veiled portrait of various people he knows within the publishing industry. This means there is no shortage of subjects who would love to see the novel never see the light of day and to finally silence Quine's poison-pen.
Many might say that Rowling is biting the hand that feeds her with a mystery set within the literary community. But that would sell short the intriguing mystery and, once again, the compelling character of Cormoran Strike.
There's an interesting sub-plot of Strike's assistant, Robin, wanting to be more to the growing detective agency than just an assistant and the impact that is having on her impending nuptials. The story unfolds during the winter and there are times when the weather seems to become a major character in and of itself.
Rowling in the guise of Galbraith has done it again — created one of the more compelling, page-turning mysteries I've read this year. And while the end of this novel could be the end for Strike and his adventures, I'm hopeful that it isn't.
---
All Day and a Night by Alafair Burke
Alafair Burke's latest novel All Day and a Night takes us back to the world of Ellie Hatcher.
Hatcher is assigned the task of re-opening the file convicted serial killer, Anthony Amoro when a new killing using what appears to be Amoro's method is committed. Did the justice system send the wrong man to prison for life (and give the novel it's title — a life sentence is referred to as "all day and a night.)?
Hatcher isn't the only one looking into the new case and the old evidence. A crusading law firm has taken on a new lawyer to appeal Amoro's case in the light of this new evidence. And if the killer is still out there and operating again, both sides face a ticking clock until he or she strikes again.
Burke's novels always start out with an intriguing hook and have some compelling characters, but often are weighted under by predictable plot twists and resolutions. That is, unfortunately, the case with her latest entry in the Ellie Hatcher series. As the story continued to unfold, I found myself reading less due to interest in the central mystery and more due to my interest in her characters. I suppose that's damning with faint praise.
And yet I keep coming back to Burke time and again. I keep hoping that she'll find that right middle ground with great characters and a central mystery doesn't feel overly familiar. I'm not ready to give up on her just yet, but my patience is starting to wear a bit thin.
---
And Then There Were None by Agatha Christie
Now that I've been out of school for more years than I care to count, I'm always intrigued to see what my local school system has put in the recommended summer reading list. Seeing that a couple of Agatha Christie novels have made their way into the ranks of recommended literature felt like as good an excuse as any to revisit what many consider to be the "queen of mysteries."
Which leads me to And Then There Were None, one of the iconic locked-room murder mysteries ever published. And while there may be some dated technological elements to the novel, the central mystery itself still holds up.
I'd read the novel before but had honestly forgotten who-done-it. And so it was that I listened to the novel while working out, finding myself completely captured by the characters and situation, wondering who would meet their fate next and all the while curious as to who was behind it. I've read that Christie said this was one of the most difficult mysteries she penned. I'm glad she was able to make it through and create one of the most compelling and famous mystery novels ever published.
If you want to see the roots of the mystery genre and understand why Christie is still read and highly regarded today, this one is well worth your time. Or if you're like me and haven't read it in a few years, pick it up and enjoy it all over again.